If you haven't been to check out the super cute creations over at Altered by Jenn then I suggest that you click on the button below and get on over there!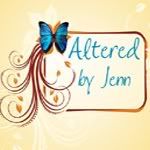 I twisted Jenn's arm
Jenn has graciously agreed to do a giveaway here on Scott School next week. So stop by Monday to enter and tell your friends!