Will you still be my friend if I reveal to you my mess?
If I told you we rarely sit on this couch because it's usually covered in laundry?
What does this have to do with homeschooling? It has to do with home. It has to do with attitude. It has to do with the legacy I am leaving for my children.
I no longer want to be cluttered and messy. I no longer want my house to be unwelcoming to anyone who may stop in. I don't want inviting people over to be stressful.
I want a place to have peace and joy with my family. I want to change myself and serve those I love most. I want a place of order.
I've tried FlyLady. She is so sweet and I do use some of her ideas (15 minute cleaning), but I am just not motivated by a shiny sink.
I attempted a 40 bags in 40 days challenge and did get 3 large boxes and 2 bags outta my house, but as you can see there is more to this mess than just tossing stuff.
What I am looking for a heart change.
So I will be participating in 31 Days to Clean Homemakers Challenge.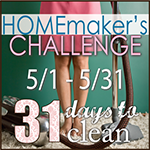 I've bought Sarah Mae's ebook
31 Days to Clean - Having a Martha House the Mary Way
and I think I am ready to find freedom in the walls of my home.