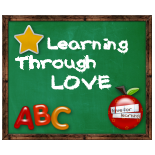 We love having friends come over for school time. For the first day of T week we had our pal Joel over.
The boys started our coloring letter D templates from
DLTK
with brown markers.
Next they
t
ore up some green paper.
And glued it to the
t
op of their Ts to make
t
ree Ts.
t
ent.
They made it a cozy hideout with tons of pillows and blankets. They almost couldn't fit in there themselves. (Which reminds me I better declutter my blanket collection :))
Soon two little
t
ummies were rumbling so we headed back to the kitchen table to make Rice Krispie
T
reats.
Each boy took a turn counting marshmallows into the pot,

pouring in the Rice Krispies,

and stirring the mixture.

Unfortunately I missed out on the eating pictures but you can imagine their blissful little faces devouring this gooey snack.

The rest of our week was a bit busier than I would have liked. We were able to make a Martha Stewart puppet kit tiger.

And do some work in our
Kumon
books.
And we played with this cool puzzle I got at Michael's for $1.50.

It is great practice for number recognition and sequencing. (Which you can tell fromthe picture we are still working on :)) We also have the alphabet version.
Find out what others have done this week. Head over to
Homeschool Creations
and
My Family My Forever.