Hello! How have y'all been? I am so thrilled to be writing about our homeschool
chaos
adventures again. I've missed keeping up with all of the homeschool happenings around the blogsphere.
This blog does have a new name. I chose Scott School because Scott is our last name and well I write about school :)
If you have one of the old Fifth Street Academy buttons then go ahead and replace it with this fresh new one: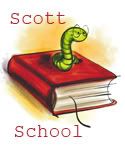 Don't you just love the book worms?
School is in almost full swing around here. Hudson is doing some preschool/preK work and Meadow is a tot schooler.
For the time being we will be working on the following subjects:
Hudson
Bible

Printing
Beginning Reading
Math (Number recognition, counting, simple addition and subtraction)
Art
Science
P.E.
Meadow
Bible
Colors
Shapes
Art
P.E.
I hope to keep you all updated through out the week with the various activities and learning experiences we pursue. Also I plan to have a link list of great ideas that I find around the internet every Saturday. I will add some book and educational toy reviews when the opportunity arises as well.
So leave a comment and let me know you are out there!